Transmission Repair Burbank
Welcome to Burbank Motor Works, your one-stop destination for top-quality transmission repair in Burbank. We take immense pride in being a trusted name in the automotive repair industry, serving the local community for many years.
Here, we will walk you through our transmission repair services, the importance of timely maintenance, and why you should choose us for all your transmission repair needs.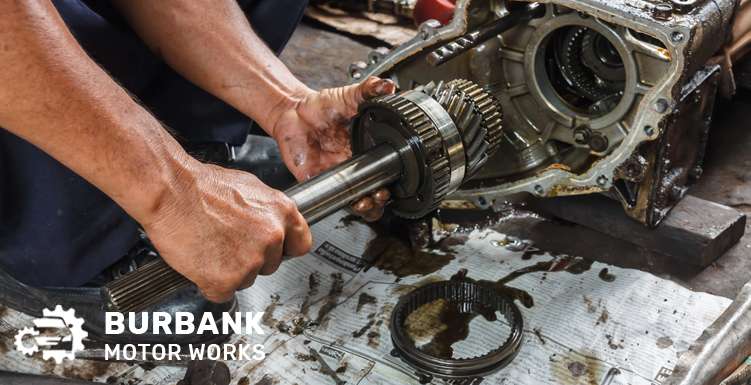 Common Signs of Transmission Problems
Recognizing the signs of transmission problems is crucial in preventing major breakdowns. Some common symptoms of a malfunctioning transmission include:
Strange Noises: Clunking, whining, or grinding noises when shifting gears.
Slipping Gears: If your vehicle unexpectedly changes gears or refuses to stay in gear, there may be a problem.
Delayed Engagement: A delay in response when you shift from "Park" to "Drive" or "Reverse."
Burning Smell: A burning odor could be a sign of overheating transmission fluid.
Transmission Services We Offer
At Burbank Motor Works, we offer a wide range of transmission repair and maintenance services to address any issue your vehicle may be experiencing. Our services include:
| | |
| --- | --- |
| Service | Description |
| Transmission Fluid Change | Regular fluid changes are essential for maintaining a healthy transmission system. We inspect, flush, and replace your transmission fluid to ensure it functions properly. |
| Transmission Rebuild | In cases of significant damage, we offer complete transmission rebuild services. This involves disassembling, inspecting, and replacing damaged components to restore your transmission's functionality. |
| Transmission Diagnostics | We use advanced diagnostic tools to identify the source of transmission problems quickly and accurately. |
| Clutch Repair | If you drive a manual transmission vehicle, we also offer clutch repair and replacement services. |
Why Timely Transmission Repair Matters?
Timely transmission repair is crucial for the longevity and optimal performance of your vehicle.
Prevent Major Breakdowns: Timely transmission repair helps prevent minor issues from escalating into major, costly breakdowns.
Safety Assurance: A well-maintained transmission ensures the safety and reliability of your vehicle on the road.
Extended Lifespan: Regular maintenance can extend the lifespan of your transmission and your vehicle as a whole.
Cost Savings: Addressing transmission issues early can save you money by avoiding expensive repairs or transmission replacement.
Improved Performance: A well-functioning transmission leads to better overall vehicle performance and fuel efficiency.
Resale Value: Maintaining your transmission can positively impact your vehicle's resale value if you decide to sell it in the future.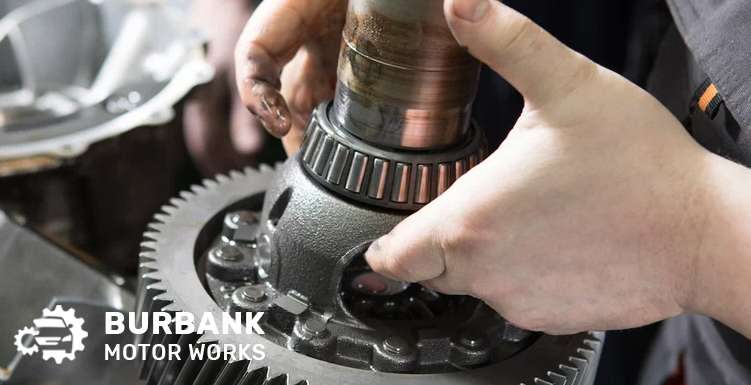 Why Choose Us for Transmission Repair in Burbank
At Burbank Motor Works, we understand the importance of a well-functioning transmission system. Your vehicle's transmission is a complex and vital component that plays a crucial role in the overall performance of your car. It's responsible for transmitting power from the engine to the wheels, and any issues with the transmission can result in decreased performance, strange noises, or even complete failure.
Here are a few reasons why you should choose us for transmission repair in Burbank:
Experienced Technicians: Our team of certified technicians is well-versed in all aspects of transmission repair. They have the knowledge, skills, and experience to diagnose and repair transmission problems in various makes and models.
State-of-the-Art Equipment: We invest in the latest diagnostic and repair equipment to ensure the most accurate and efficient transmission repairs.
Transparency: We believe in honest and transparent communication. Before any repair work begins, we provide a detailed diagnosis and estimate, so you know exactly what to expect.
Quality Parts: We use only high-quality, OEM or equivalent replacement parts to ensure the durability and longevity of your vehicle's transmission system.
The Best Transmission Repair Service in Burbank
Don't wait until a small transmission issue becomes a major problem. Contact us for all your transmission repair and maintenance needs in Burbank. We are committed to delivering high-quality services with unmatched expertise. Call us to schedule an appointment today.
FAQs
The frequency of transmission fluid changes depends on your vehicle's make and model. However, a general rule of thumb is to have your transmission fluid changed every 30,000 to 60,000 miles. Refer to your vehicle's owner's manual for specific recommendations.
Yes, at Burbank Motor Works, we are experienced in repairing and maintaining both automatic and manual transmissions. Our technicians are well-versed in the complexities of both transmission types.
The time it takes to repair a transmission can vary depending on the extent of the damage and the specific repair required. In many cases, minor repairs can be completed in a day, while more complex issues may take longer.
Transmission repair typically involves fixing specific components or issues within the transmission system. Transmission rebuild, on the other hand, is a more comprehensive process where the entire transmission is disassembled, inspected, and rebuilt with new components to restore its functionality.
Yes, we stand by the quality of our work. Our transmission repair services often come with a warranty. The specific terms and duration of the warranty will be discussed with you before any repair work begins.